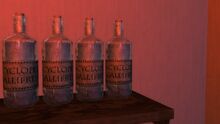 Encyclopedia Gallifreya are collectables that require the player to be a timelord and once collected: gift the player advanced telepathic abilitys while in timelord form. With the base FWV mod, the bottle in the Galley cannot be collected. Should the player use Xoanon's addon, a lore box will popup after every collection, and an additional telepathic ability is unlocked at 13 collected. The locations are as follows:
Sickbay, bottomshelf of the trolley
Master bedroom, the table next to the bed
Copper console, in the side portion, down the stairs
Copper console, near the TARDIS toolkit
Coral console, on the raised platform, near the TARDIS toolkit
Ship's galley, on a table opposite the entrance. (Requires Xoanon's addon to be collectible.)
Library, ground floor, inbetween 2 bookshelves
Library, 1st floor, on top of a bookshelf on the right hand side
Library, 1st floor, in the study.
Library 2nd floor, left hand side, on top of a bookshelf
In the Gardens grow area, behind the planters.
Swiming pool, in the bathroom stall.
Near the Eye Of Harmony.